Biggleswade Charter Market
Biggleswade has held a weekly market dating back to the 12th century. However, it wasn't until 1227 that it was granted full market town status by King Henry III.
The Charter Market runs on Saturdays, with an array of stalls ranging from varying fresh food stalls, Cards & Gift Wrap, Haberdashery, Plants & Shrubs, Gifts & Ornaments, Children's Clothing and Household Items to name but a few. New traders come to the market on a regular basis to add to the eclectic mix of stalls.
If you are interested in trading with us, please contact Email: market@biggleswadetowncouncil.gov.uk
Market history
In 1227, King Henry III granted Biggleswade full market town status following an original confirmation from King John, and the town's market was held every Monday before being moved to a Wednesday by King Charles II in 1662. By 1631, there were five fairs with corn, livestock, and plait markets which ran up until the 20th century, whilst the Ancient Horse Fair continued until 1958. The main Charter Market continues to the present day and is held every Saturday in Market Square. There is also a mid-week Tuesday market, as well as visiting food markets periodically scheduled throughout the year.
Tuesday market
Our mid-week Tuesday market is held in Market Square on the hard standing, running between Century House and the War Memorial. It runs from 08:00 until 15:00, depending upon weather and the season.
Although smaller than the Saturday Charter Market, it features a number of popular stalls from Plants & Shrubs, Food stalls, and Household to Gifts/Ornaments.
If you are a trader and would like to sell your wares at our Markets, please Email: market@biggleswadetowncouncil.gov.uk
Community and charity stall
Biggleswade Charter Market offers the opportunity for local charities, community groups and not-for-profit organisations to have a market stall stand twice a year.
To find out more about the costs see the list of fees.  Pitches are available every Saturday*. For Biggleswade charities/organisations, this fee is refundable. For all National charities and organisations outside of Biggleswade, this is non-refundable.
This gives the public the opportunity to meet local not-for-profit organisations from Biggleswade and the surrounding  area. Meanwhile, this provides local charities and organisations an outlet to promote their services/work, whilst simultaneously raising much needed funds.
Should you take up the offer of this market stall/umbrella, this will be set up and taken down for you (unless you wish to supply your own). Included with this are back and side sheets, 1x 6ft table and two chairs. Should you require any additional tables or chairs, you will need to provide these by yourself.
Saturday market runs from 09:00 – 14:00.
To book a Saturday Charity & Community Stall, please contact: Email: market@biggleswadetowncouncil.gov.uk
Tel: 01767 313134 (answer machine available out of hours)
* subject to availability
Specialist markets
We hold various activities and events throughout the year at our markets. Some are seasonal like Easter and Christmas, whereas others are visiting food or continental markets. We are also looking to launch more themed markets, such as Arts & Crafts, Farmers and Antiques, and Vintage & Collectibles. If you run your own themed market and would be interested in coming to Biggleswade, please contact:
Email: market@biggleswadetowncouncil.gov.uk
Tel: 01767 313134 (answer machine available out of hours)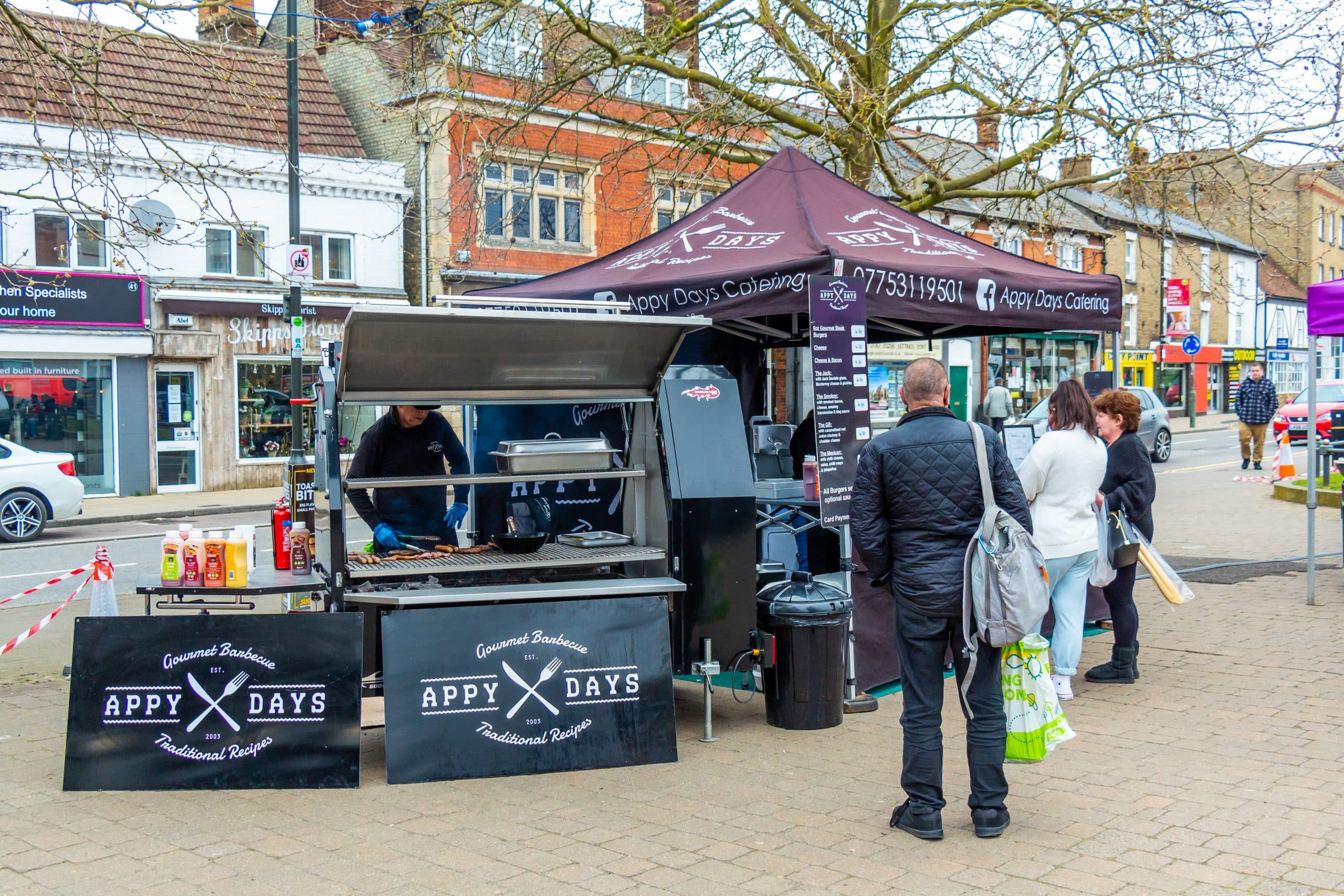 Trade with us
We are looking for the following types of stalls to add to our existing offering:
Fruit and vegetables
Fresh and pre-packed meats
Toys
Men's fashion
Footwear
Tools
Food and drink – packaged
Food and drink – takeaway
Books and magazines
Any other stall that would add variety to our market
To apply for a market stall, please get in touch with us here:
Email: market@biggleswadetowncouncil.gov.uk
Tel: 01767 313134 (answer machine available out of hours)
Facebook: www.facebook.com/biggleswademarket
Please see the following additional resources: